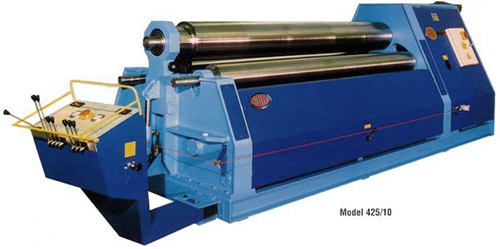 ELIMINATION OF GEAR TRANSMISSION, GIBS & WAYS, BUSHINGS, CLUTCHES AND SYNCHRONIZATION DEVICES.

ELIMINATION OF DAILY, WEEKLY OR MONTHLY MAINTENANCE.

ABILITY TO ROLL TO 1.1 TIMES TOP ROLL DIAMETER.

LIFETIME PARALLELISM.

NO PROPRIETARY REPLACEMENT PARTS.

OFF-SHELF PARTS AVAILABLE IN MOST CITIES.
Whether you are a job shop or manufacturer, the Heller 4 Roll is the best solution. Every machine, size for size, can roll 30% tighter diameters than any type roll and 30% thinner material than 3 roll double pinch machines. These features, combined with the advanced technology incorporated in all aspects of the Heller Roll, make it up to 300% more efficient than 3 roll machines.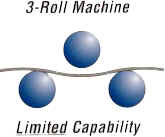 vs.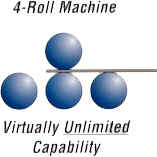 By using exclusive planetary guides: available on Heller Rolls, we are able to keep approximately 50% more area of the plate under bend pressure during the rolling operation, thereby allowing the Heller Rolls to roll down to 1.1 the upper roll diameter. This allows Heller Rolls to have a 30% advantage on tight diameters.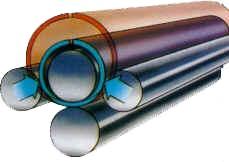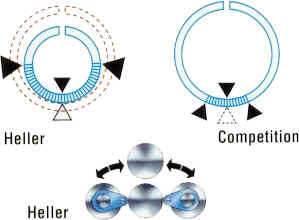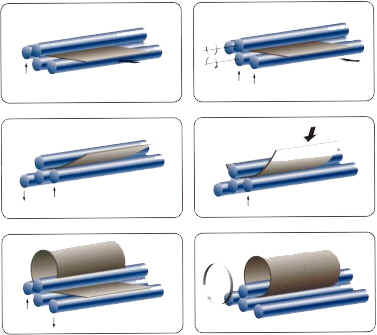 Spherical Roller Bearings:
Extremely energy efficient. Eliminates bushings and the necessary running tolerance they require. A negligible loss of energy due to friction whereas bronze bushings take 25-30% of available energy to overcome inherent friction. Lubricated for life.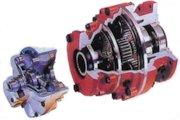 Planetary Drive:
Eliminates complicated transmission systems which are not energy efficient. Delivers in excess of 98 % of all created energy to roll surface. Also eliminates the need for clutches and complicated synchronization devices.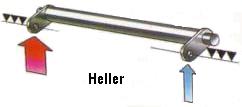 Torsion Bar Parallelism: Unlike electronic systems or proportional value systems, which maintain a theoretical balance, the Heller Roll maintains a mechanical finite parallelism through our exclusive torsion bar system which allows the machine to be adjusted to its full conical tilt andback to parallel in only 5 seconds for the life of the machine.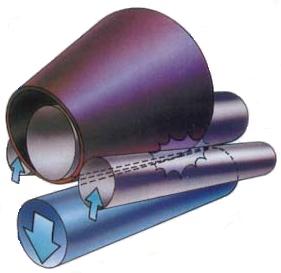 Cone Rolling: Through exclusive technology, Heller Rolls can develop cones as easily as competitive machines can develop cylinders. And it eliminates scarring on the surface of shell or roll and also eliminates, in most cases, the need for grinding the lamination (bullnosing) on the minor diameter edge.
| | | | | | | | | | | |
| --- | --- | --- | --- | --- | --- | --- | --- | --- | --- | --- |
| Model |  Length | Rolling | Pre-Bend | Top Roll | Center Roll | Side Roll | Working Height | Length | Width | Height |
| 412/3 | 49" | 12 ga | 16 ga | 3.15" | 4.33" | 3.94" | 26" | 79" | 33" | 41" |
| 412/6 | 49" | 1/4" | 10 ga | 4.92" | 4.72" | 4.33" | 28" | 96" | 33" | 41" |
| 417/6 | 68" | 1/4" | 10 ga | 5.51" | 4.72" | 4.33" | 28" | 115" | 33" | 41" |
| 420/6 | 80" | 1/4" | 10 ga | 6.3" | 5.51" | 4.72" | 28" | 127" | 33" | 41" |
| 420/8 | 80" | 5/16" | 1/4" | 7.48" | 6.69" | 5.91" | 32" | 133" | 42" | 49" |
| 420/10 | 80" | 3/8" | 5/16" | 8.27" | 7.48" | 6.69" | 34" | 135" | 49" | 52" |
| 420/13 | 80" | 1/2" | 3/8" | 8.66" | 7.87" | 7.09" | 34" | 135" | 49" | 52" |
| 420/16 | 80" | 9/16" | 1/2" | 9.84" | 10.24" | 8.66" | 39" | 147" | 58" | 60" |
| 420/18 | 80" | 5/8" | 9/16" | 10.63" | 10.24" | 8.66" | 39" | 147" | 57" | 59" |
| 420/20 | 80" | 3/4" | 5/8" | 11.02" | 10.24" | 8.66" | 42" | 164" | 67" | 72" |
| 420/25 | 80" | 1" | 3/4" | 11.81" | 11.02" | 9.45 | 43" | 164" | 67" | 67" |
| 420/35 | 80" | 1 3/8" | 1 1/8" | 13.39" | 12.20" | 10.24" | 55" | 169" | 78" | 82" |
| 420/40 | 80" | 1 9/16" | 1 1/4" | 14.96" | 13.78" | 11.81" | 68" | 177" | 86" | 94" |
| 420/50 | 80" | 2" | 1 9/16" | 16.93" | 14.96" | 12.99" | 72" | 200" | 106" | 104" |
| 420/60 | 80" | 2 1/2" | 2" | 19.69" | 18.11" | 14.96" | 88" | 200" | 123" | 121" |
| 420/70 | 80" | 2 3/4" | 2 3/16" | 21.26" | 19.29" | 15.75" | 101" | 209" | 137" | 140" |
| 420/80 | 80" | 3 1/8" | 2 9/16" | 22.44" | 20.47" | 17.32" | 101" | 209" | 137" | 140" |
| 425/6 | 102" | 1/4" | 10 ga | 7.09" | 6.69" | 5.561" | 28" | 149" | 33" | 41" |
| 425/8 | 102" | 5/16" | 1/4" | 7.87" | 7.09" | 5.91" | 34" | 154" | 43" | 50" |
| 425/10 | 102" | 3/8" | 5/16" | 8.66" | 8.27" | 6.69" | 34" | 156" | 48" | 52" |
| 425/13 | 102" | 1/2" | 3/8" | 9.45" | 8.66" | 7.48" | 34" | 156" | 48" | 52" |
| 425/16 | 102" | 9/16" | 1/2" | 10.63" | 9.84" | 8.27" | 39" | 169" | 57" | 60" |
| 425/18 | 102" | 5/8" | 9/16" | 11.02" | 10.24" | 8.66" | 39" | 169" | 57" | 60" |
| 425/22 | 102" | 3/4" | 5/8" | 12.99" | 12.20" | 9.41" | 43" | 186" | 68" | 72" |
| 425/28 | 102" | 1 1/8" | 3/4" | 13.78" | 12.99" | 9.84" | 43" | 186" | 68" | 72" |
| 425/32 | 102" | 1 1/4" | 1" | 14.17" | 13.39" | 11.02" | 55" | 190" | 78" | 82" |
| 425/35 | 102" | 1 3/8" | 1 3/16" | 15.75" | 14.96" | 12.20" | 68" | 199" | 86" | 94" |
| 425/45 | 102" | 1 3/4" | 1 3/8" | 18.11" | 16.54" | 13.78" | 73" | 222" | 106" | 104" |
| 425/50 | 102" | 2" | 1 9/16" | 20.08" | 18.11" | 15.75" | 74" | 222" | 106" | 104" |
| 425/60 | 102" | 2 1/2" | 1 7/8" | 20.47" | 18.9" | 16.14" | 88" | 222" | 123" | 121" |
| 425/70 | 102" | 2 3/4" | 2 1/2" | 22.83" | 20.87" | 17.72" | 103" | 231" | 137" | 141" |
| 430/6 | 122" | 1/4" | 10 ga | 8.27" | 7.48" | 5.91" | 50" | 174" | 43" | 49" |
| 430/8 | 122" | 5/16" | 1/4" | 9.06 | 8.66" | 6.69" | 34" | 176" | 48" | 50" |
| 430/10 | 122" | 3/8" | 5/16" | 9.84" | 9.06" | 7.48" | 35" | 176" | 48" | 50" |
| 430/14 | 122" | 9/16" | 1/2" | 11.42" | 10.63" | 8.27" | 37.5" | 189" | 58" | 50" |
| 430/16 | 122" | 5/8" | 1/2" | 12.2" | 11.02" | 9.06" | 39" | 188" | 58" | 60" |
| 430/22 | 122" | 3/4" | 5/8" | 13.78" | 12.99" | 9.84" | 43" | 206" | 68" | 72" |
| 430/28 | 122" | 1 1/8" | 3/4" | 14.96" | 14.17" | 11.42" | 56" | 210" | 78" | 82" |
| 430/32 | 122" | 1 1/4" | 1" | 16.14" | 14.57" | 11.81" | 56" | 210" | 78" | 78" |
| 430/35 | 122" | 1 3/8" | 1 1/8" | 16.93" | 15.75" | 12.99" | 59" | 218" | 94" | 94" |
| 430/40 | 122" | 1 9/16" | 1 1/4" | 18.11" | 16.54" | 14.57" | 73" | 242" | 106" | 104" |
| 430/45 | 122" | 1 3/4" | 1 3/8" | 18.9" | 17.32" | 14.57" | 73" | 242" | 106" | 104" |
| 430/50 | 122" | 2" | 1 9/16" | 21.26" | 19.69" | 17.32" | 89" | 242" | 123" | 120" |
| 430/65 | 122" | 2 1/2" | 2" | 25.2" | 21.65 | 18.5" | 105" | 250" | 137" | 141" |
| 430/85 | 122" | 3 3/8" | 2 1/2" | 29.53" | 26.77" | 22.44" | 128" | 292" | 162" | 130" |
| 440/6 | 161" | 1/4" | 10 ga | 9.65" | 9.06" | 7.09" | 34" | 216" | 48" | 52" |
| 440/8 | 161" | 5/16" | 1/4" | 10.63" | 9.45" | 7.81" | 35" | 216" | 48" | 52" |
| 440/10 | 161" | 3/8" | 5/16" | 12.60" | 11.81" | 9.06" | 39" | 218" | 58" | 60" |
| 440/12 | 161" | 1/2" | 3/8" | 13.78" | 12.6" | 9.06" | 39" | 228" | 58" | 60" |
| 440/16 | 161" | 5/8" | 9/16" | 14.96" | 13.78" | 11.42" | 44" | 245" | 68" | 72" |
| 440/20 | 161" | 3/4" | 5/8" | 16.54" | 14.96" | 12.2" | 56" | 242" | 78" | 82" |
| 440/25 | 161" | 1" | 3/4" | 18.11" | 16.54" | 14.57" | 57" | 242" | 78" | 82" |
| 440/32 | 161" | 1 1/4" | 1" | 20.07" | 18.11" | 15.35 | 70" | 258" | 86" | 94" |
| 440/40 | 161" | 1 9/16" | 1 1/4" | 22.83 | 21.26" | 18.11" | 75" | 281" | 106" | 104" |
| 440/50 | 161" | 2" | 1 9/16" | 25.59" | 23.62" | 19.69" | 91" | 281" | 123" | 121" |
| 440/60 | 161" | 2 1/2" | 1 3/4" | 27.65" | 25.6" | 21.65" | 106" | 290" | 137" | 141" |
| 450/6 | 200" | 1/4" | 3/16" | 9.65" | 8.66" | 6.69" | 34" | 257" | 49" | 53" |
| 450/10 | 200" | 3/8" | 5/16" | 13.8" | 12.6" | 9.45" | 39" | 259" | 59" | 59" |
| 450/14 | 200" | 9/16" | 3/8" | 14.96" | 13.8" | 11.42 | 44" | 268" | 64" | 67" |
| 450/16 | 200" | 5/8" | 9/16" | 16.54 | 15.35" | 12.6" | 53" | 281" | 78" | 78" |
| 450/20 | 200" | 3/4" | 5/8" | 17.32" | 16.14 | 13.39" | 54" | 281" | 78" | 78" |
| 450/25 | 200" | 1" | 3/4" | 20.08" | 18.11" | 15.35 | 70" | 298" | 86" | 94" |
| 450/32 | 200" | 1 1/4" | 1" | 22.05" | 20.47" | 17.32" | 75" | 288" | 97" | 95" |
| 450/40 | 200" | 1 9/16" | 1 1/4" | 24.8" | 22.44" | 19.29" | 91" | 288" | 123" | 121" |
| 450/50 | 200" | 2" | 1 9/16" | 27.95" | 25.59" | 21.65" | 106" | 301" | 134" | 135" |